CAPITAL INSURANCE GROUP ANNOUNCES STAFF PROMOTIONS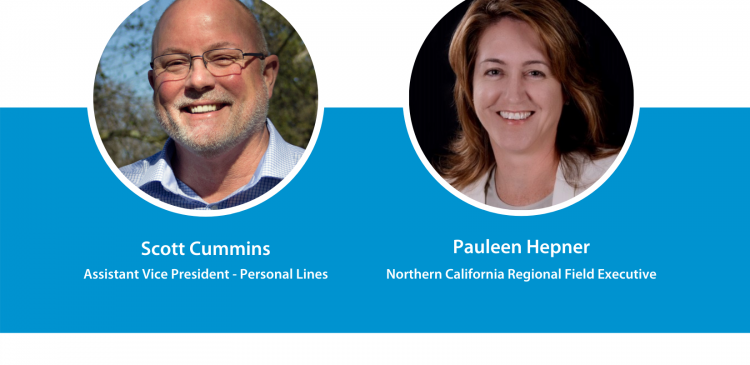 Scott Cummins Tapped as Assistant Vice President – Personal Lines and Pauleen Hepner Steps in as Northern California Regional Field Executive. 
Capital Insurance Group® (CIG®) is pleased to announce the promotions of Scott Cummins and Pauleen Hepner. As the leading property and casualty insurer in the Western U.S., we are proud to see Scott and Pauleen continue to grow in their new roles within CIG. The movement of these key staff positions enables sustained growth and profitability of CIG's Personal Lines and helps continue driving Northern California's production in Commercial, Ag and Personal lines of business. 
Scott Cummins has been promoted to Assistant Vice President – Personal Lines. Since joining CIG in 2016, Scott has held the role of Regional Field Executive for the Northern California Region, where he oversaw production and profitability for Personal, Commercial, and Ag lines. In his new role, Scott will oversee Personal Lines Underwriting, Product, and Processing, as well as Client Services for all states of operation, with the ultimate goal of profitably growing this line. Scott will continue to report and work out of the Roseville Office. 
Prior to joining CIG, Scott spent eight years in Wisconsin with QBE as a Branch Leader and Personal Lines Leader for WI.  Scott started his career with a national company as a Personal Lines Underwriter, moving to positions of increasing responsibility for Personal Lines. These included Underwriting/Product Manager, Personal Auto Underwriting and Services Director, Personal Property Product Director and even P&C Information Technology Officer. "I'm honored to have the privilege of leading Personal Lines for CIG. I am confident my broad experience will lend itself well to the work ahead in sustaining profitable growth for the business. Along with our employees, I look forward to deepening CIG's relationship with the independent agents we are privileged to serve, as we work in a meaningful and valued manner for agents, employees and policyholders," said Cummins.
Pauleen Hepner has been promoted to the position of Regional Field Executive. Since joining CIG in 2014, Pauleen has held the role of Regional Underwriting Manager for the Northern California Region where she has been responsible for the commercial underwriting results. Prior to joining CIG, Pauleen was the AVP Underwriting Manager at QBE for both Commercial and Ag Insurance for Northern California. Pauleen holds both her Chartered Property Casualty Underwriter (CPCU) and Agribusiness & Farm Insurance Specialist (AFIS) designation and is a graduate of California State University, Fresno, with a degree in Finance. In her new role, Pauleen will step into the position that is being vacated by Scott Cummins with responsibilities over Northern California's results in Commercial, Ag and Personal lines. She will continue to report and work out of the Fresno Office. "I've had the privilege to lead the Commercial Lines team in Northern California for the past six years and am honored to be promoted to the role of Regional Field Executive and build upon the strong foundation that's been created" said Hepner.
"Both Scott and Pauleen have excelled and made lasting impacts in their current roles. I have no doubt they will continue to make great strides and help drive business for CIG and our agency partners in their new positions," said Kevin Okelberry, AVP – Commercial and Ag Lines. "They are both focused on providing our independent agents with unmatched service and a dedicated commitment to our policyholders."
​About Capital Insurance Group 
Established in 1898, Capital Insurance Group® (CIG) is a leading regional property and casualty insurer in the Western U.S. Headquartered in Monterey, California, CIG offers trusted Agriculture, Commercial, and Personal coverage across Arizona, California, Nevada, Oregon, and Washington. 
Known for superior customer service and customizable coverage, CIG delivers insurance solutions tailored to meet the needs of policyholders, sold exclusively through independent agents. CIG's suite of insurance offerings include coverage for Homeowners, Renters, Personal Auto, Dwelling Fire, Businessowners, Commercial Auto, Farm Owners, Commercial Agriculture, Farm Auto, Commercial Real Estate, and more. Throughout its footprint, CIG partners with regional and local charitable organizations and events to give back to communities in ways that promote preparedness, enhance resilience, and bring relief to communities in crisis. 
CIG is underwritten by its affiliate companies: California Capital Insurance Company, Eagle West Insurance Company, Nevada Capital Insurance Company, and Monterey Insurance Company. CIG is rated "A"(Excellent) by AM Best, the independent financial monitor of the insurance industry and is proud to be part of the Auto-Owners Insurance group of companies, one of the nation's largest, most-trusted insurers. For more information, please visit CIGInsurance.com.