The Johnson Family


For Steve and Wendy Johnson, Santa Rosa has always been home.
The couple, who met in high school, have been together for 23 years and were born and raised in the northern California town. Over the course of their lives switching jobs, raising children and grandchildren, they've had no desire to leave the area, even after the devastating Tubbs Fire.
It's been one year since the fire ripped through the community. As Coffey Park residents, the Johnson's can remember it like it was yesterday.
It was like any other Sunday night. Steve and Wendy followed their usual, nightly routine and went to bed around 10 p.m. They were on alert with a nearby fire in Calistoga, about 45 minutes from their home.
Unbeknownst to them, the winds were up to 80 MPH and pushed the wildfire over six lanes of Highway 101. The fire was roaring towards Santa Rosa at an alarming rate, 100 yards every 60 seconds – the length of a football field.
It was an unusually warm night in October, so the couple left their windows and doors open.  Around midnight they woke to the smell of smoke, which had quickly filled their bedroom and now their lungs. Then suddenly, their neighbor started banging on their front door.
"In that moment, I knew this was real," Wendy recalled. "I didn't want to believe it, but the words came right out of my mouth, point blank. This was it."
The couple sprang into action. Standing in their backyard, what laid before them was a horrifying sight. Ash and embers were falling from the sky like snow. Smoke had completely engulfed the night sky, which created a menacing glow over the dark clouds. Still, they could not see any fire.
Steve, to save his classic car collection, frantically drove and separated the cars on his property. Wendy began hosing down their backyard, deck, and house.
"All of a sudden I felt this enormous heat on the side of my face," Wendy described. "The heat was so strong, I had no idea how close the fire was. I began circling the hose above my head just in case, to keep myself from catching fire."
A moment later, the water stopped from the hose. They had lost water pressure.
Wendy dropped the hose to her feet and screamed for her husband to follow. They threw together a bag of clothes and managed to grab their passports, all before they hopped into separate cars. As they spilled out their driveway, their neighborhood was a scene of "organized chaos." No fireman, police or emergency responders had made it to the scene yet. People were running to nearby homes and banging on front doors, directing traffic and ushering fellow residents out of the neighborhood.
"Coffey Park is just an amazing community," Wendy said. "You hear about all the different stories now, but you just don't know until you've lived it."
The couple retreated to Raley's, a local grocery store out of harm's way. After much time had passed, Steve attempted to return for his favorite classic car "Ratso" – a 1956 Chevrolet 210 Gasser. After driving over downed telephone lines and past burning trees, he knew he had to turn back. The fire was so hot he recalled sweating inside his vehicle, with his skin sticking to the interior.
Every single house was completely engulfed in flames – up to 300 feet in the air. The following morning, their neighborhood resembled a wasteland, as 1,800 homes were burned to the ground.
Gas lines were still burning, hot tubs were smoldering. The ash was still falling from the sky. Every lot was burned down to the ground, with only remnants of concrete foundation, potted plants, appliances, and cars remained. Standing on their driveway, they turned to their left and for as far as they could see, there was nothing. Coffey Park was gone.
That day the Johnson's called their CIG agent, Sheila Harden at George Petersen Insurance Agency. By Wednesday, they had cash in their hands. Shortly afterwards their adjuster came out to their property, and from there they started their total claims process.
Their home was a total loss, and with it they lost all possessions and memorabilia from their life together. From precious family photo albums to a 1981 newspaper clipping of Steve's grandfather's obituary, the family lost so much. But as Steve likes to look at it – they didn't lose everything.
"It hurts bad and it always will. But I lived, and my wife lived," Steve said. "The glass is half full, absolutely. We are so lucky our children, grandchildren, and dogs were safe. You must find the positive in everything. You must move forward, you can't just sit and cry about it. You have to keep going, that's all you can do."

For the past year the couple has lived out of their camper trailer. As they've reconstructed their lives, and their home, Steve found solace as he rebuilt Ratso. After several months, he got the classic car to run again.
Fire damage and all, Steve entered the car into the Lakeside Car & Boat Show in August. He won Best in Show.
One year later, the Johnson's are moving back to Coffey Park. Their reconstructed home is in the exact same location, on the exact same lot. The neighborhood no longer resembles a wasteland, but rather a hopeful construction zone. The couple estimates about 250 homes are in various construction stages.
The Johnson's are one of only a handful ready to be moved in. For that, they feel very lucky.
"We've never been through this before, and that alone is overwhelming. But thanks to CIG, we have been able to rebuild our lives so quickly," Wendy said. "We are very grateful – from our insurance agent to our construction builders. I can't even go through the list of everyone who has helped us."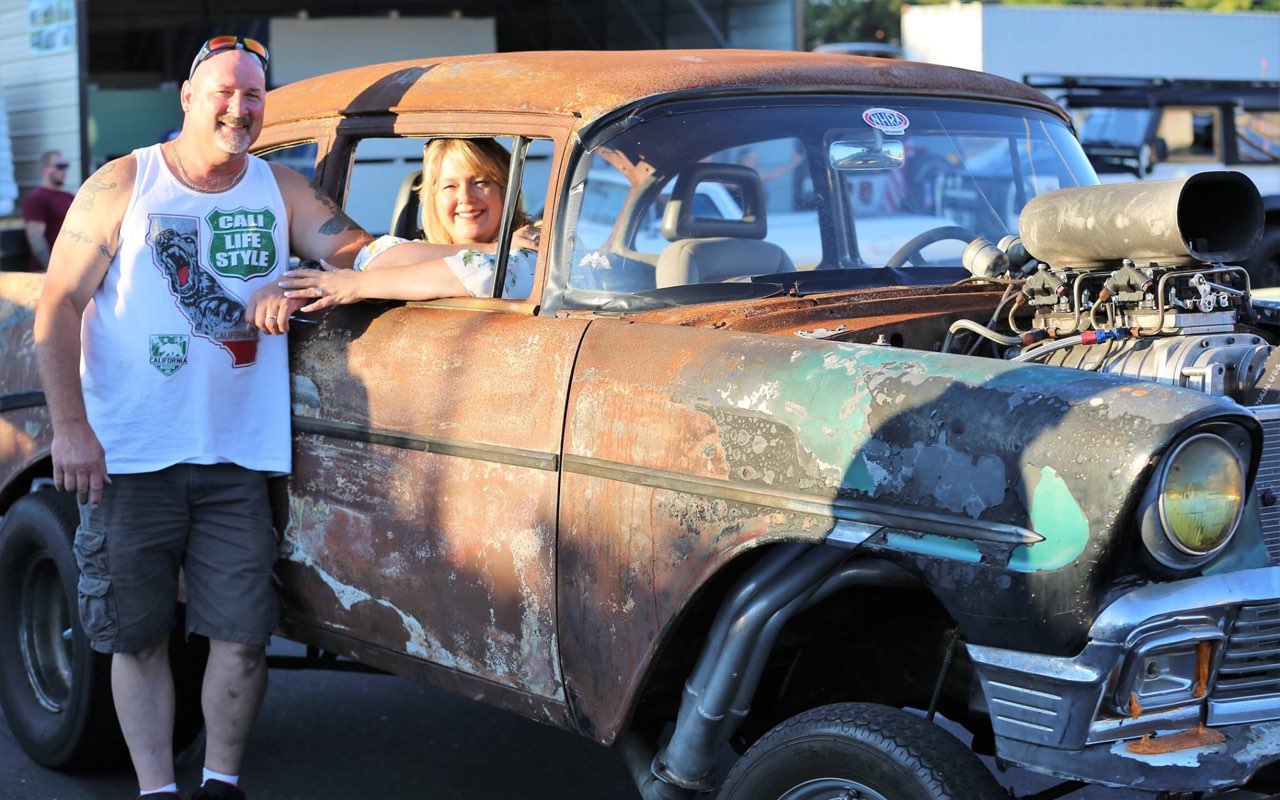 As they reach the one-year anniversary of the Tubbs Fire, Steve and Wendy have a new lease on life.
"This has been a learning lesson. Do we wish this didn't happen to us? Of course," said Steve. "Are we better off because of it? Yes. We have our family, and I have my Ratso. I still have it, and now it's even better. It's something new."