Resilience: A Bocce Ball Court Story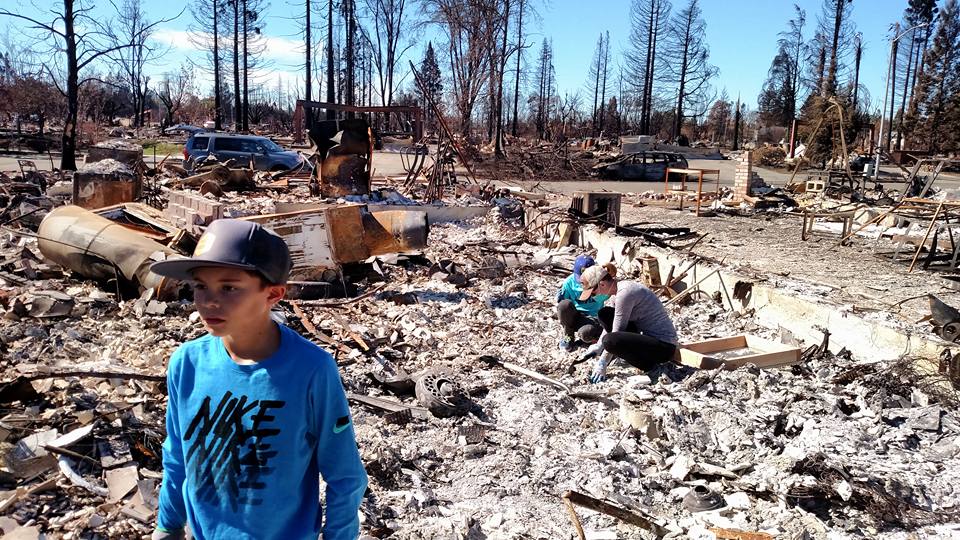 For most people, a bocce ball court is just that – a bocce ball court. A flat surface, covered with sand or short grass, an old Italian lawn game.
For Tim Esparza, his backyard court was exactly what he envisioned it to be—a destination. The court was a place where neighbors, families and friends would congregate, play and build life-long memories. But after October 8, Tim's bocce ball court took on even greater meaning.
The Tubbs Fire ripped through Santa Rosa overnight, as one of 250 wildfires that devastated California in early October. For the Esparza family, October 8th was a normal Sunday. Their entire weekend was occupied with soccer, as the Santa Rosa City Cup was happening in town. Tim, a soccer coach, was out and about all day while his 10-year-old sons competed in the tournament. When evening came about the family was fast asleep by 9:30 p.m., not even aware a wildfire was in pursuit.
Pushed by strong winds, the front of the Tubbs Fire moved more than 12 miles in its first three hours. Their neighborhood – Mark West Estates – was right in its path. "We heard a pounding on the door at 1am from our neighbor, there was a fire coming right at us," Tim recalled. "The back of our home faces a canyon, and we could see it coming. The fire sounded like a freight train, the sound of exploding propane tanks. It was the scariest sound I've heard in my entire life."
Tim had about 15 minutes to get his family together and get out of the house. They gathered what possessions they could, their two sons and their dog. His wife and he split up into two cars, each taking one of their sons. They hit the road south, driving past walls of flames, cars on fire and what Tim described to be a "warzone."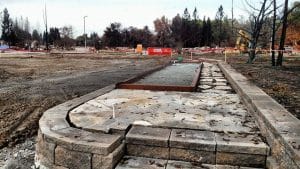 Their evacuation took them from Santa Rosa to Sebastopol, Petaluma to Windsor, as other wildfires threatened the communities. In all, the Tubbs Fire burned 36,807 acres, destroyed more than 5,100 structures and caused the death of 22 people. An employee at Redwood Credit Union, Tim had been an Auto and Home policyholder with Capital Insurance Group for about 10 years.
"Our home was engulfed at 3am, and by 8am my agent was texting me my policy," Tim said. "A few days later I was able to visit CIG's satellite office and file my claim in person. It was one less thing I needed to worry about. CIG put hope back in a situation where we felt hopeless. We know this is going to take time, but just to know that we're covered and someone has our back is so reassuring."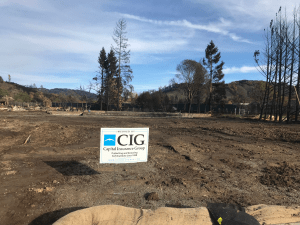 Tim and his wife had just completed a five year remodel of their home, which they planned to retire in. "Nobody ever thinks about using their homeowners insurance. Maybe your fence blows down or you need to replace your roof. Not many people have to deal with this kind of catastrophe," he said. In the days following the fire, Tim was able to return to his home with a neighbor sheriff. The property was completely destroyed, with frames still burning. Through all the rubble, there was only one piece of his property left intact – his bocce ball court.
Standing amongst a sea of charred dirt and blackened trees, the court stood magnificent. Every inch of the court, from the brick retaining wall to the terracotta wooden beams, remained intact. The sand base seemed to sparkle in the sun, as did the pickle-colored bocce balls, which were in the same spot as when they were last played.
For Tim and his family, and even the debris removal crews, no one could understand why or how the court survived the fire. But it did.  "Everything will be built around that bocce ball court," Tim declared. "That is resilience. If it can make it, we can make it. And that's the only way I'm able to get through this. I'm teaching my boys about how to deal with adversity. This bocce ball court is just that." Today, Tim and his family are living in Santa Rosa as they begin to rebuild their home. Special thanks to the entire Esparza family, for sharing their story.