Evaluating Your Agricultural Insurance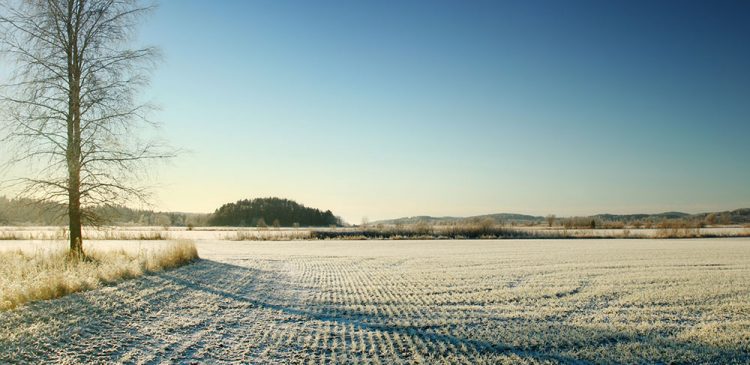 Why farmers need to evaluate agricultural insurance before winter hits
The days are getting colder and there's no denying the inevitable: Winter is near.
For many farmers in California, Oregon, Nevada and Washington, the turn of the season doesn't mean work slows down. Rather, it means their responsibilities shift. Farmers' focus will turn from row crops and harvesting to office work and preparations for springtime planting. If you're a farmer beginning to turn your attention to your wintertime small farm management tasks, don't forget to add an insurance review to your to-do list. Agricultural insurance can protect the investment you care and work so hard for.
Cover your plants before frost
Winter brings frost to the Pacific Northwest, which can be very destructive to some types of plants. Some plants, like pumpkin or squash, should never be touched by frost at all, so it's important to complete your harvest early on in the season for these types of produce.
However, with the right protections, some plants can continue growing into the colder season without harm. In fact, depending on the weather and where you're located, you may be able to harvest fresh greens for your Thanksgiving, Christmas or other holiday meals, Better Homes & Gardens wrote. To properly protect your plants, use a frost blanket. These are spun polyester or plastic covers that keep frost out but allow light and water in. Once in place, these blankets should only be lifted for harvesting. When removing the cover, try to aim for a warmer time of day to avoid a sudden chilly blast to your plants.
If you don't have a frost blanket yet, a sheet or piece of cardboard will do in a pinch. Be sure to steer clear of plastic coverings, though – these may do more harm than good, unless there's a barrier between the plant and the plastic, Gardening Know How explained.
Know which plants can thrive during the winter
For many plants, winter is a time of harvest or hibernation. But root vegetables tend to do just fine under the soil and out of harm's way. In fact, Annie Novak, the manager of Edible Academy at the New York Botanical Garden, told Modern Farmer that she enjoys growing carrots during the winter.
"They are the best reason to go outside in January," she said. Other plants to keep beneath the surface during the colder months include beets, turnips, potatoes and parsnips. Kale is a hardy leaf vegetable that can grow sweeter during the colder months as well.
Have a plan for destructive winter weather
While it's possible to grow healthy crops well into the winter, unpredictable weather like snowstorms or unexpected frosts are a risk outdoor growers need to contend with. When winter weather threatens gardens and small farms, the right agricultural insurance plan is key to preparedness. For advice on how to prepare your farm for the cold season ahead, reach out to a Capital Insurance Group Agent; our experts will be able to identify which agricultural insurance products make the most sense for your farm.