3 Ways to Safeguard Your Home From Wildfires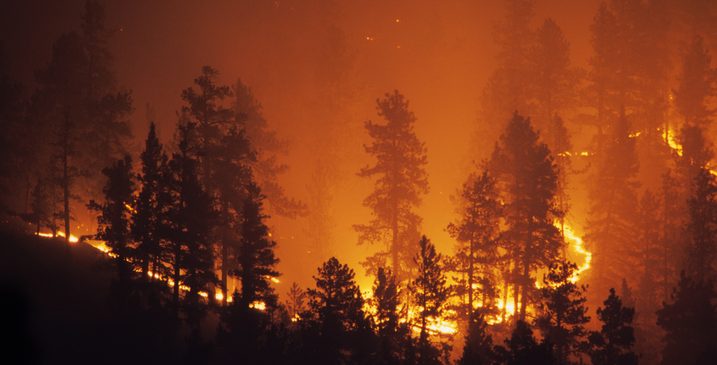 It seems like every summer the West Coast sees dozens of wildfires. Here are three things you can do to ensure your family and home stay safe.
The warmer months are favorite times for many of us. "Weather" it's the stunning fall colors or just getting outside, we like to be more active about taking it all in during these months.
For those of us in the insurance or firefighting industries, fall can mean something more ominous. Illegal campfires and burn piles, sparking overheated transformers, downed power lines, car fires, and dry lightning are the causes of many of our wildfires in recent memory. And the results are real. This summer, the West Coast has seen dozens of wildfires. During these distressing times, our Claims team supports our insured by notifying them of area evacuations and connecting them to community assistance.
While there are plenty of common sense tactics you can employ to prevent fires, such as proper disposal of smoking materials, there are some other safeguards you can do when a fire threatens your home:
1. Create an Evacuation & Meet-Up Plan.
First and foremost, this is the most important thing to remember. Have a plan and practice it. Nothing is more important than getting loved ones and pets clear of danger. Everything else can be replaced. Include grab and go packs for everyone with water, snacks, contact numbers, and medications included. For helpful resources, visit the National Fire Protection Association.
2. Purchase a Small Fire-Resistant Safe.
Some things are harder to replace than others. So take the time to purchase a small fire-resistant safe to protect your valuable documents, emergency cash and small jewelry. Include your insurance documents for ready reference. If the safe is small enough it can be part of your evacuation plan. If you don't have time to grab it, then you may find some comfort in knowing your valuables have some defense against fire. Storing photos of valuables and documents on your phone, or in the cloud, are also great back-ups when it is time to make a claim.
3. Give Your Home Defensible Space.
Want to give your home the same fighting chance against fire? Give it some space…defensible space. Clear all fuels at least 100 feet away from your structures. No dry grass and no tree limbs within four feet of the ground (six feet is better). If you have time, closing all your windows and doors before you leave can do wonders to limit or prevent fire and smoke damage. Work with neighbors to keep their lots and homesteads fire safe. Your home will stand little chance of surviving a neighbor's home that is fully engulfed. Give fires every reason to go around or over your home without damaging it.
For those of us in the insurance industry, we have a singular and critically important focus: repairing lives that have suffered financial and emotional trauma associated with tragic life events.
We wish everyone a safe and happy season!