Why do I need renters insurance?
More adults are renting than ever before. That's according to a Pew Research Center report, which found that 65 percent of households headed by young adults were renters in 2016. One decade prior, this number was just 57 percent. If you're one of the many young renters in the U.S., you may ask yourself, "why do I need renters insurance?" but your landlord's insurance policy only covers the building and any common areas you have access to – not your individual possessions.
Here's what you need to know about choosing the best renters insurance policy for you:
What does renters insurance cover?
Renters insurance protects the policyholder's personal property, both inside and outside the rental space. However, not all sources of damage are covered. Losses due to flooding or earthquakes, for example, aren't covered, while events like fire or theft are. Some common claims that are covered by most renters insurance policies include:
Water damage due to a burst pipe or a leak.
Wind.
Hail.
Vandalism.
Renters insurance policies follow you around wherever you go. This means that if your backpack were stolen from a bus stop, your policy would cover that theft. It also means you could keep some of your things in an off-site storage unit and they'd still be covered. Policies also include liability protection, which is there to help out if someone gets hurt on your property, like if your dog bites your guest or someone trips and breaks their arm on your staircase while they're visiting you. Your policy can help cover some medical bills or legal expenses should they decide to sue you.
It's important to note, though, that the breed of dog might matter. Many insurers won't cover Great Danes, wolf mixes or pit bulls, among others.
What won't renters insurance cover?
There are some unfortunate events that renters insurance most likely won't cover. Since earthquake damage isn't covered by the standard policy, a water leak that occurred because of an earthquake won't be, either, even though most water leaks would qualify for a claim. Other events that insurance won't cover include bed bugs and other pests or damage to your car. However, it will cover the items inside your car should something happen to them.
Who does renters insurance cover?
Renters insurance will only cover the person or people listed on the policy. If your roommate isn't listed on your policy and her items get stolen during a break-in, they won't be covered by your policy – she needs her own.
On the other hand, you could put your roommate's name on your policy, but there are some drawbacks to this. Adding someone to your policy will half your coverage limit. If you and your roommate share a policy that covers up to $20,000 of loss, you can only claim up to $10,000 of it.
To learn more about renters insurance policies, get in touch with a Capital Insurance Group agent using our agency locator tool.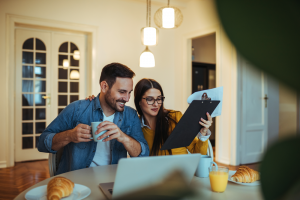 Need Renters Insurance?
Find out how CIG can help you find the right coverage for your home today!