5 Tips for Outdoor Grilling Safety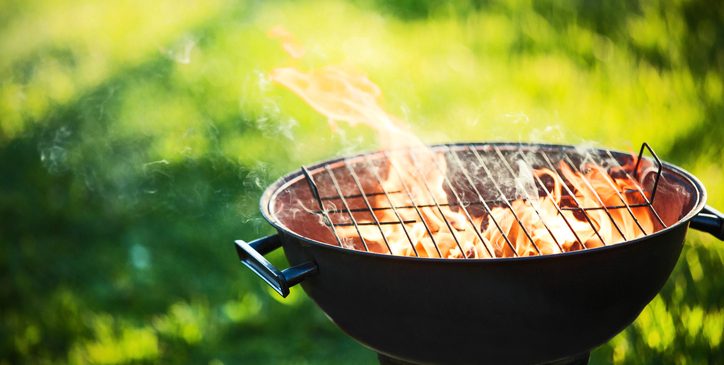 Follow this safety checklist before you fire up the grill.
Summer is the season for enjoying outdoor activities. More often than not, this includes backyard grilling.
According to the National Fire Protection Association (NFPA), U.S. fire departments respond to an average of 8,900 home fires involving grills, hibachis, or barbecues every year. Unfortunately, almost all of these fires can be prevented. Fortunately, with some simple precautions, your family can enjoy a safe grilling season.
Here is a quick checklist to follow the next time you grill:
Position your grill in a safe place. Your grill should be placed at least 10 feet away from your home, deck railings, patio décor, and any low-hanging tree branches or vegetation. Keep the grill out of a high-trafficked area, with easy access to water or a fire extinguisher.
Inspect your grill. Inspect the grill for any damage and clear any ash or debris since you've last used it. Always check for the connection between the gas (propane) tank and the hose that connects the burners. Tighten if loose.
Complete a gas leak check. No matter how often you grill, this is imperative to do every time. Follow these two steps, as recommended by the NFPA:
Apply a light soap and water solution to the hose using a brush or spray bottle.
Turn the propane tank on. If there is a leak, the propane will release bubbles around the hose. If there are no bubbles, your grill is safe to use.
Never leave the grill unattended. It's tempting to step away, but fires can ignite and spread in seconds. If you need to step away, switch off with another adult. The smell of food can be luring for pets and children alike, so establish a three-foot safety zone for the whole family to follow.
Clean your grill properly. While cooking, keep your grill clean by removing grease or fat build-up. After you cook, turn off and disconnect the propane tank. Give the grates an extra good scrub with your brush. Every grill operates slightly differently, so refer to your manual for any specific instructions.
While you follow these practices, take it one step further and review your homeowners or renters insurance policy on a seasonal basis. Review your coverage to ensure you are properly covered in the event of a fire. To learn more, contact your Capital Insurance Group Agent. Not insured with us? To get started, visit www.ciginsurance.com/agency-locator.